Gas lines are susceptible to corrosion, leaks, and collapse due to age. Inspections identify unsafe or hazardous conditions that can be remedied to prevent emergencies and property loss.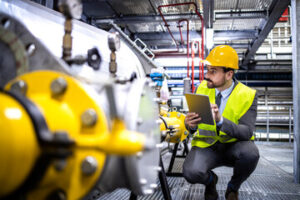 Local Law 152 requires owners of buildings not in occupancy group R-3 to hire a licensed master plumber (LMP) or qualified individual under the LMP's direct supervision to inspect exposed gas piping in public spaces and boiler and mechanical rooms every four years. For professional help, contact NYC Gas Piping Inspection.
Local Law 152 of 2016 requires all buildings with gas piping to have periodic inspections by a qualified inspector. These inspections are based on a schedule set by the Department of Buildings and must be conducted by Licensed Master Plumbers (LMP).
In addition to performing the visual survey, the LMP must also test public spaces, hallways, corridors, and mechanical and boiler rooms with a portable combustible gas detector for evidence of a gas leak. The inspection must include all exposed gas piping from the point of entry into the building to the building service meters, including those in commercial tenant space.
A gas piping inspector must be a Licensed Master Plumber (LMP) or an individual working under the direct and continuing supervision of a LMP. In order to ensure that the qualified inspector you hire will be able to meet the requirements of LL 152, the DOB recommends checking the LMP's license status and disciplinary and voluntary surrender records on the DOB's website.
Following the inspection, the LMP must provide the building owner with a GPS1 form. Then, within 30 days of the inspection, the LMP must submit to DOB a GPS2 form via the online GPS2 submission portal. The GPS2 must be signed and sealed by the LMP who performed or supervised the inspection.
The GPS2 form must include an explanation of any conditions identified as presenting an immediate danger and any other conditions that have been discovered in the course of the inspection, such as illegal connections or atmospheric corrosion. It must also specify whether any work to correct the unsafe condition is being or will be undertaken in accordance with construction codes and requires a DOB work permit.
LL 152 is designed to reduce the risk of gas explosions and fires. While no system is completely fail-safe, following this law can help protect building occupants and owners from property damage, lawsuits, and fines. If you have any questions about your building's gas piping inspection requirements, we encourage you to reach out to Harris Plumbing & Heating and speak with one of our experts.
Local Law 152: Periodic Inspections
If you own or manage multifamily properties, you probably know that Local Law 152 requires periodic inspections of all exposed gas piping on a rotating schedule. It was enacted to help keep residents, maintenance staff, and city first responders safe from the potential for gas leaks or explosions caused by old or failing systems or ill-secured connections.
The law applies to all buildings with more than one residential unit unless they are in occupancy group R-3, and it covers all of the city's five boroughs. Those who don't comply with this important safety requirement can face fines of up to $5,000 for each building that's past due.
During these inspections, a qualified licensed master plumber will check for faulty or worn parts, non-code-compliant installations or illegal connections, and more. Depending on the findings of the LMP, a report will be issued that details all the necessary steps for the property owner or board to take to rectify any issues and bring the building into compliance.
The filing deadlines for Local Law 152 inspections are different depending on your community district, and you can find the schedule on the DOB's website. It's best to be proactive and have your inspection done before the due date, but if you do miss it, there are some extenuating circumstances where you can get an extension from the DOB.
Once your inspection is complete, you'll receive a Certificate of Compliance from your certified plumbing inspector (CPI). The CPI must file the certification within 120 days of the initial inspection, and you should always keep a copy of both the report and the certification on hand for future reference. Having these reports in your files can also be helpful in establishing a timeline for when you need to have any problems fixed. If the inspector finds any issues that need to be corrected, you'll need to schedule a second inspection from a licensed master plumber and submit another GPS1 form in order to pass your next Local Law 152 certification. If you need more time to make repairs, it's possible to request an extension from the DOB if you can demonstrate that it's an emergency.
Local Law 152 Certification
The Department of Buildings requires a recurring inspection of all exposed gas pipelines in buildings with an LPG system every four years. This includes piping in individual tenant spaces (upstream from the point of entry into the building), all shared and amenity areas, boiler rooms in multifamily buildings, and rooftop mechanical spaces on large commercial and multifamily buildings. The inspection must be completed by a Licensed Master Plumber (LMP) or an individual working under the direct and continuing supervision of a LMP.
The inspector must visually examine the entire piping system and make notes of any unsafe or hazardous conditions. They must also conduct a pressure test to ensure that the system is operating within acceptable limits. The LMP must also notify the DOB of any unsafe or hazardous conditions identified during the inspection. After the inspection is complete, the LMP must send a GPS1 Gas Piping Periodic Inspection Certification form to the building owner within 30 days. It is then the building owner's responsibility to submit the report to the DOB via the online GPS2 submission portal created for this purpose.
Local Law 152 Enforcement
It has implemented a number of laws to maximize the safety of its exposed gas piping systems. One of those laws, Local Law 152, requires building owners to have their piping inspected on a regular basis. While the process can seem complex and overwhelming, it is easy to navigate with a little bit of preparation. This guide will outline the basics of LL 152 compliance and provide tips for how to ensure your building stays in good standing.
Local Law 152 was introduced in 2016 as part of a larger package of legislation designed to reduce the risk of deadly gas leaks and pipeline explosions. It requires all buildings with exposed gas piping to undergo inspections on a four-year cycle, and it establishes fines for non-compliance. Additionally, it mandates that all piping be marked with combustible gas leak indicators and detectors. It also stipulates how boards and owners must notify residents in the event of a potential gas leak.
LL 152 compliance is mandatory for all buildings with exposed gas piping, except those in occupancy group R-3 (two families or less). If you're not sure whether your building is included in the exception, check the classification on your Certificate of Occupancy.
To be in good standing, your building must have a qualified inspector conduct a complete LL 152 inspection and issue an inspection certificate within 120 days of the initial inspection. If you find problems during your inspection, you have 120 days to correct them and submit a new Certificate of Inspection.
You must keep all documents relating to your LL 152 inspection in your files for 10 years following the inspection and submission. The city's Department of Buildings may request these documents at any time.