If you have a residential HVAC system, you need to maintain it. In order to ensure that it will run properly, you need to have it cleaned and checked regularly. Hubbard Mechanical includes the blower motors and the compressors, as well as any voltages that are present.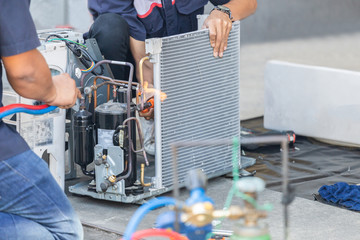 If you want to keep your home warm in the winter and cool in the summer, you should consider having a well-maintained HVAC unit. Maintaining your AC unit can save you money and help you avoid problems down the road. It can also improve the quality of the air in your home.
One way to achieve this is to clean your HVAC unit regularly. In particular, you should be cleaning the inside of your condenser. This includes the fan blades and the coils.
While it isn't always possible to do these maintenance tasks yourself, you can save yourself some time and frustration by hiring a professional. Not only will a cleaner be able to get in and out of those hard to reach areas, but they'll also have the tools to remove the debris from the system.
When you hire HVAC services, it's important to get a thorough inspection of your equipment. This will tell you how well it works and the most effective way to maintain it.
During an inspection, the technician will test the airflow and the refrigerant levels. He or she will also check the condensate drains. In addition to checking the system's functions, the technician will also relay to you any issues with the system.
An HVAC inspection will give you peace of mind. It's an especially great idea to have one done if you are moving into a new home. You don't want to start your new life with a faulty or outdated system. A poorly maintained system isn't just a safety hazard; it can cost you money in the long run.
Performing routine inspections of blower motors and voltages for HVAC services can prevent major issues from happening in your home. A malfunctioning air conditioner or furnace can result in uncomfortable conditions and high maintenance costs. However, these problems can be easily fixed by a trained technician.
If you notice a rattling sound coming from the blower, it could mean that the part is not working properly. Other symptoms include overheating and weak airflow. You might also hear a screeching or scraping sound.
A good way to test the blower is with a multimeter. Multimeters are electronic tools that can be used to check voltage and resistance in various parts of a circuit.
Performing regular inspections on your HVAC system can help you spot problems before they become big problems. A good technician can diagnose your AC and perform any necessary repairs.
For instance, if you hear a humming or buzzing sound from your outdoor unit, you may have a problem with the fan motor. This is a common sign of wear and tear.
The HVAC condenser fan motor is one of the most important components of your home. It should be checked every year. Failure to do so can result in significant damage to your system.
If you're having trouble with your fan motor, consider a replacement. Replacing this component will make your air conditioning system run more efficiently.
Whole-home humidifiers and dehumidifiers help you maintain a proper level of humidity. Dry air can cause many problems. Not only can it make you feel cold, but it can also aggravate asthma.
Getting too dry can cause problems with skin, wood, and your windows. This can lead to mold growth, rotting wood, and even condensation.
While portable units are usually capable of raising the humidity in a single room, they require frequent maintenance. They also lack the ability to circulate the moisture throughout the house.
Unlike portable humidifiers, whole-home models are part of the heating and air conditioning system. That means they constantly monitor the temperature and humidity levels in the home, and adjust the levels accordingly.
A commercial HVAC service plan can minimize unforeseen breakdowns, save energy and increase the life of your equipment. Typically, these plans include maintenance, repair and inspection services. They may also cover maintenance materials.
Commercial HVAC systems are expensive, but regular maintenance can save money in the long run. Maintaining your system will keep it running efficiently and avoid large repairs down the road.
An efficient HVAC system can provide a comfortable environment for employees. Uncomfortable temperatures can distract employees and negatively impact their productivity.
Keeping your air ducts clean can also improve your office's comfort. Ensure your air filters are in good shape and replace them as necessary. Also, make sure your air ducts and drain pans are free of dust and water. This will minimize the possibility of leaks and water damage.